Our own jigs and fixtures designs, programs and builds individual automation solutions for injection molding productiong according to your product-specific requirements. Qur core competencies are fully automatic assembly systems as well as complex production cells with insert, provision und various quality inquiries.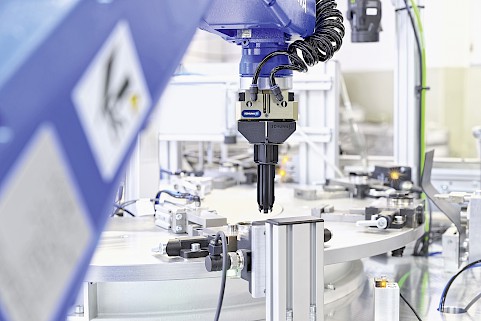 Our devices are supplemented by comprehensive monitoring sensors. This is an important instrument in the achievement of the zero-error target.

This task area is rounded off by measuring and testing devices that are used both in the measuring room and during production-accompanying tests.

It is exactly this versatility which is our strength, an example of which is seen in the automation of our processes.
GRIPPER FOR ROBOTS
Product specific gripper systems
     Gripper for inserting metal parts into injection molds
     Gripper for removing the finished injection molded parts
MOUNTING AND FEEDING
Product-specific assembly, testing and feeding systems
MEASURING FIXTURES
Slot to measure the components on the coordinate measuring machine
Gauges for manufacturing-related component testing
ASSEMBLY ISLANDS
Mounting island consisting of three assembly workstations for the assembly of guide sleeves
AUTOMATION CONCEPTS
Equipping of fully automatic blast machine using 6-axis robot
FULLY AUTOMATIC ASSEMBLY
Fully automated assembly system for head restraint guide sleeves